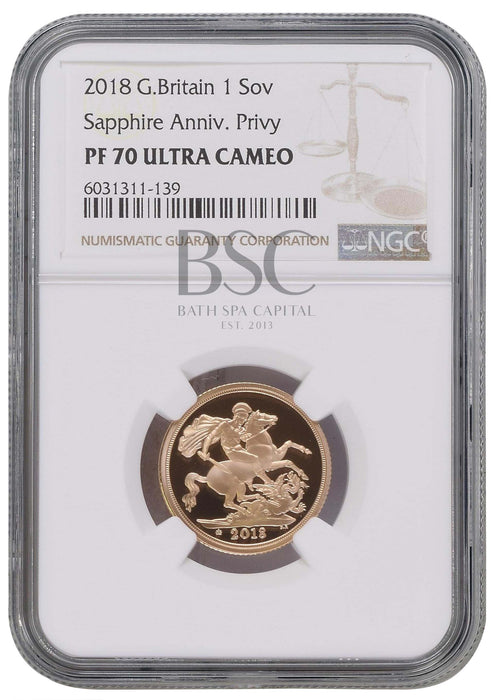 Elizabeth II, 2018 Gold Proof "Sapphire Anniversary" Sovereign NGC PF70 Ultra Cameo
Original price
£1.00
-
Original price
£1.00
Elizabeth II, 2018 Gold Proof "Sapphire Anniversary" Sovereign.
7.98g of 22ct/.917 gold (Actual Gold Weight: 7.32g of 24ct/pure gold). Obverse: ELIZABETH II DEI GRA REGINA FID DEF (Elizabeth the Second by the Grace of God Queen Defender of the Faith). Fifth portrait of Elizabeth II, crowned with the 'George IV State Diadem', JC below truncation for designer Jody Clark. Reverse: St. George on horseback, brandishing his sword having slayed the dragon, his broken spear discarded on the ground, 65 privy mark, 2018 and B.P., for designer Benedetto Pistrucci, in exergue. Mint State/Proof FDC.
Authenticated and graded by NGC as PF70 Ultra Cameo, certification no. 6031311-139.
References: S. SC9, KM #1332, Marsh 352.