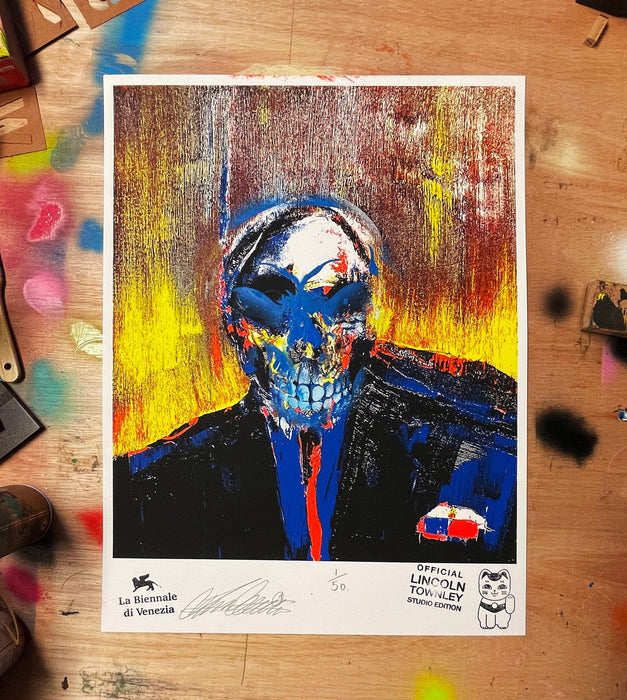 Banker's Menace - Framed Embellished Screen Print (2022) - Limited Edition of 50 by Lincoln Townley
Original price
£1,400.00
-
Original price
£1,400.00
Banker's Menace - Embellished Screen Print (2022) - Limited Edition of 50 by Lincoln Townley
FRAMED Screen print hand-embellished
42 x 59.4cm
Museum Quality Framed
This is a limited edition piece. Click here for more information.
 Banker's Menace is a screen print hand-embellished by Lincoln Townley, stamped by the studio and sold with a certificate of authenticity - approved by Bank Vault.
5 Designs available per design; each print measures 42 x 59.4cm.
By purchasing this artwork, you will receive the next available numbered print in the edition of 50.
All prints are authenticated by Bank Vault, the official body for authenticating original works and multiples by the British contemporary artist Lincoln Townley.
Lincoln Townley in his Cheshire studio, May 2020
As a visual poet of violence, Lincoln Townley's figurative paintings capture the darker side of the human experience and apprehend it within recognizable gestures and a menacing palette. Having participated in the 2019 Venice Biennale, with exhibitions in New York City, London, Los Angeles, Berlin, and Singapore, the highly successful self-represented artist creates looming images of the foulest gradients of our soul. His ability to capture the darkness of his sitters has made him a portraitist of several celebrities such as Al Pacino, John Cleese and Russel Brand, while still working in parallel collections that encompass the experience of contemporary malice. After having found solace in the work of artists like Francis Bacon and Edvard Munch, his art continues to reclaim the experience of confrontation and doubt, as when looking into a stained reflection, unsure—and scared—if what we just saw is indeed our own spectral image.
Lincoln Townley - Artist Biography
Source: Sotheby's and the Lincoln Townley Studio Group 
Lincoln Townley's figurative paintings are fictive portrayals drawn entirely from the artist's imagination. The head and shoulders portraits depict be-suited businessmen sporting viscerally painted faces that loom out of abyssal backdrops and emerge directly into our own space. They are an evocative depiction of greed within the world's financial institutions and the 'money men' behind them. Townley's unwitting subjects are those who go out of their way to do the things that unsuccessful people are unwilling or unable to do.
Akin to Francis Bacon's radical distortions of the human figure, Townley's own figures make manifest the existential turmoil of our Twenty-First Century moment. Each Banker portrait represents the power, rapacity and influence of a financial institution - reflecting, in many cases, the unstoppable will of the individuals driving the unchecked growth.
"In these works, Townley combines the horror and distortion of Bacon with the thick and sculptural paint application synonymous with Frank Auerbach's best portraits of the 1950s. Indeed, Townley's work is strongly affined with this particular moment and milieu in post-war British art history: the gildedgutter life of Soho during the 1950s, 60s and 70s oozes off the surface of Townley's art." (Emma Baker, Sotheby's Director, Head of Evening Sale, London).
Early works in Lincoln Townley's BANKER Collection, 2021 
Having spent his earlier career as a West End nightclub promoter, Townley's paintings are infused with the same gritty yet bohemian atmosphere of Soho – a Soho that today, sanitised and commercialised, no longer exists. The commercialisation of this part of London speaks to the interesting power dichotomy at work in Townley's series of portraits: that of art and money. Bankers for Townley are perhaps what the Popes were to Francis Bacon – symbols of despotic power and unquestionable authority. In today's society we are ruled not by figures of religious authority and power but by the big-money-men; shadowy, anonymous figures are now the ones pulling the strings. The heavily layered paintings are built-up, scraped and swiped with an aggressive and expressive energy that echoes the extreme manipulation and behind-the-scenes machinations of corporate banks and their dominating influence on the way we live our lives today. Townley's canvases have a unique pulse and flicker, with dark and disturbing images which reflect the artist's profound understanding of the chaos bubbling just below the surface of our lives, driving our desires to succeed and win in life. They also reflect his fearlessness as an artist and the ferocious energy with which he paints.
Ten years ago, at his first small private show in a back street pub in London's Soho back in 2012, you could have purchased an original Townley Banker portrait for £2k. Today, much of Lincoln Townley's work is sold before it even arrives at his international shows. His work is exhibited across the world, most recently at a sell-out Venice Biennale exhibition during 2022.
The Lincoln Townley studio team creates collectible catalogues that accompany each of the artist's collections. These serve as a lasting testament to the scale and speed of Townley's actualisation, showcasing the extraordinary depth and breadth of work, as well as the meteoric development of the artist's style and reach over the past 10 years. This is testament, also, to the rapidly-expanding collector base that have now invested in the artist's growth. A larger oil work, 'Dance With The Devil', recently sold at Sotheby's auction in New York for $378,000, taking the ceiling of Townley's works at auction to the next level.
Working as an independent studio has propelled Lincoln and his team to leverage new technologies in order to focus on building direct relationships with collectors. The use of virtual galleries, augmented reality to display works and the increased use of cryptocurrency have opened up new avenues to reach buyers who are embracing the kinship they can build with the studio. Using technology has always been key for Townley as sales have become global - using virtual technology and social media as the primary tools for communication.
Lincoln says: "Technology has not only allowed me to carry on with business but has allowed me to operate more effectively. My team and I know that my work is a strong option for investors who are looking outside of the traditional stock exchange markets. The art market continues to grow exponentially, and my aim is to launch collections online first, before looking at physical locations like the Venice Biennale to show the works in person.
As I paint, we load the pieces online and send links directly to clients so they can see the complete process. Our augmented reality platform enables a collector to link straight to us via WhatsApp before seeing the work on their own wall via the camera on their phone."
Pre-show works are available through the Lincoln Townley Studio, Sotheby's London, Sotheby's HongKong, and Long-Sharp Gallery in the USA.