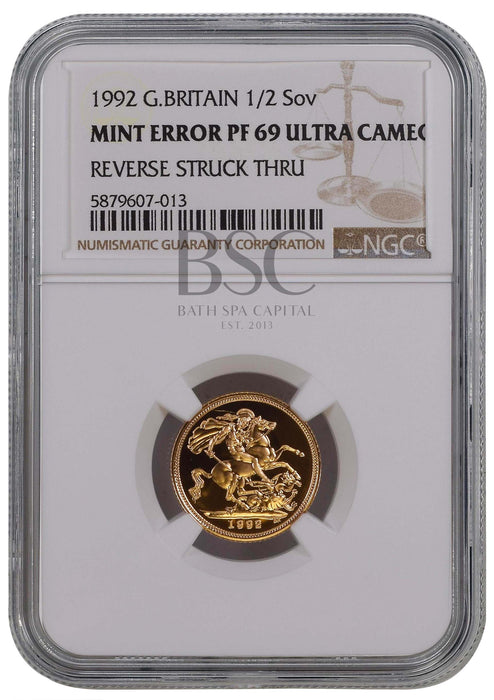 Elizabeth II, 1992 Gold Half Proof Sovereign MINT ERROR NGC PF69 Ultra Cameo
Original price
£1.00
-
Original price
£1.00
Elizabeth II, 1992 Gold Half Proof Sovereign Strike Through Error.
3.99g of 22ct/.917 gold (Actual Gold Weight: 3.72g of 24ct/pure gold). Obverse: ELIZABETH II DEI GRA REG F D (Elizabeth II by the grace of god queen defender of the faith). Third portrait of Elizabeth II, crowned with the royal diadem, RDM on truncation for designer Raphael Maklouf. Reverse: St. George on horseback, brandishing his sword having slayed the dragon, his broken spear discarded on the ground, 1997 and B.P., for designer Benedetto Pistrucci, in exergue. An incuse wavy line runs from the rim at 11 o'clock to St. George's helmet, presumably from a fine thread left on the die after polishing which was then struck into the coin leaving this impression. Mint State/Proof FDC.
A "struck-through" error occurs when a foreign object is struck into a coin, leaving an impression. 
Authenticated and graded by NGC as MINT ERROR PF69 Ultra Cameo, certification no. 5879607-013.
References: S. SB2, KM #942, Marsh 544K.