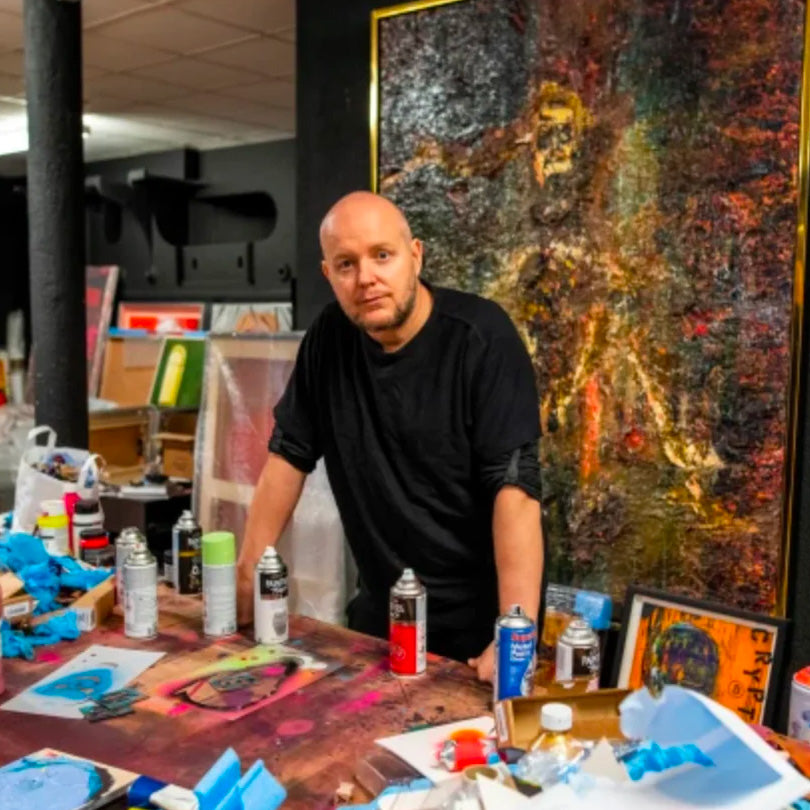 Lincoln Townley - The Dark Side of Art
Lincoln Townley is a British self-taught painter who explores the darker side of the human personality. His work is often characterised by their aggressive brushstrokes, roiling surfaces, and often tormented imagery. Townley's work has been described as "visual poetry of violence" and "looming images of the foulest gradients of our soul."
Townley's work explores a variety of themes, including the dark side of the human personality, violence, addiction, celebrity culture, the nature of reality, and the subconscious mind. His paintings are often expressionistic and raw, however, Townley's work is also praised for its technical skill and its ability to evoke strong emotions.
Lincoln Townley in his Cheshire studio, May 2020
In a 2017 interview, Townley said that he wants his paintings to "make people uncomfortable." He said, "I want people to look at my paintings and feel something, even if it's just a feeling of unease." 
Townley's paintings are often characterised by their distorted figures, dark colours, and violent imagery. These features can be interpreted in a number of ways. For example, the distorted figures can be seen as representations of the inner turmoil of the human psyche. The dark colors can create a sense of foreboding and unease. And the violent imagery can be seen as a reflection of the violence that exists in the world, both external and internal.
Banker's Greed, a 2022, limited edition print by Lincoln Townley
Townley's paintings have been praised for their technical skill and their ability to evoke strong emotions. However, they can also be disturbing to some viewers. This is because they confront the darker side of the human condition in a way that is not always comfortable.
Despite their disturbing nature, Townley's paintings are also thought-provoking and challenging. They can be seen as a reminder of the importance of facing our fears and confronting the darkness within ourselves.
BSC Collectibles are excited to have a number of limited edition, embellished screen prints for sale on our online store. Each of these prints are thought evoking and capture the essence of the darker side of everyday life. 
Click here to view our offering of contemporary art