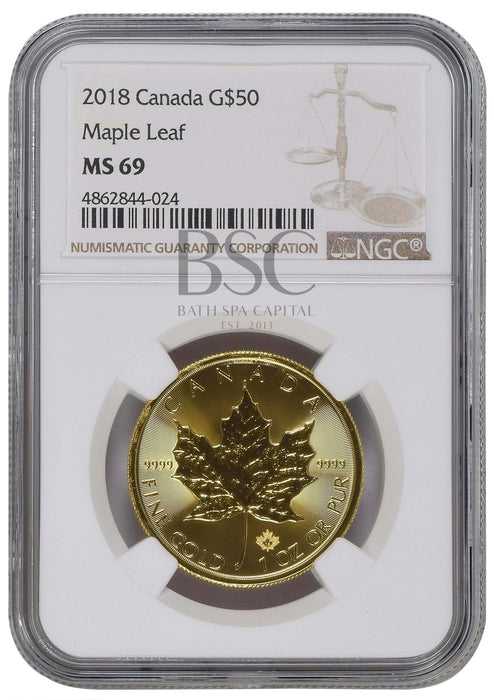 2019 1oz Canadian Maple Leaf Gold Coin - MS69
Original price
£1.00
-
Original price
£1.00
2019 One Ounce Canadian Maple Leaf Gold Coin - NGC Graded MS69
Introduced in 1979 and minted by the Royal Canadian Mint, the coin features the iconic maple leaf, a symbol which is often used to represent Canada and is synonymous with Canadian identity.
The Maple Leaf has proved extremely popular over its history and features enhanced security measures such as micron-precise tooling that gives the coin an ultra-precise radial line pattern creating a very specific light-diffraction pattern, said to be unmistakable. Each coin also benefits from a laser micro engraving feature that they share with Canada's circulating currency coins. The texture of the maple leaf (on the reverse) is so etched, and under intense magnification the last 2 digits of the year of its issue can be read.
One of the reasons the Gold Maple Leaf was so popular even when first introduced is that, in 1979, it was the only .999 pure gold bullion coin being minted. By 1982 the gold refining process was improved, yielding .9999 coins, and then further to produce special edition '5 9s' .99999 gold Maple Leaf coins.
ABOUT
The coins were originally produced using only gold mined from within the Canadian border, further establishing an extra level of national identity. Together, these features made the original coins internationally popular, and they have retained that popularity in the bullion markets of today nearly 40 years later.
The Royal Canadian Mint was established in 1908 as the Ottawa Branch of the (British) Royal Mint, largely to deal with the anticipated influx of the famed Yukon gold rush of the time. Over time, The Royal Canadian Mint have introduced a number of 'firsts' including; the first coin to incorporate hologram technology, the first square bullion coin, the first coin coloured using plasma technology and the first coin with a 1 million $CAD face value.
VAT & CGT
As with all our gold coins, the purchase does not incur a VAT duty, however, as the Maple Leaf is not a UK legal tender currency, buying coins will incur Capital Gains Tax for UK residents. Check with your tax advisor to see how this might affect you specifically. If you are interested in coins which are CGT exempt, our ranges of UK bullion coins including the Sovereign and Britannia are all CGT exempt.